Support Groups & Education
The Foundation provides several opportunities for ALS patients and their families to come together, offering support to each other and receiving the professional advice and guidance of the Foundation's Patient and Family Advocates.
Have a specific question you need answered?
Email Us a Question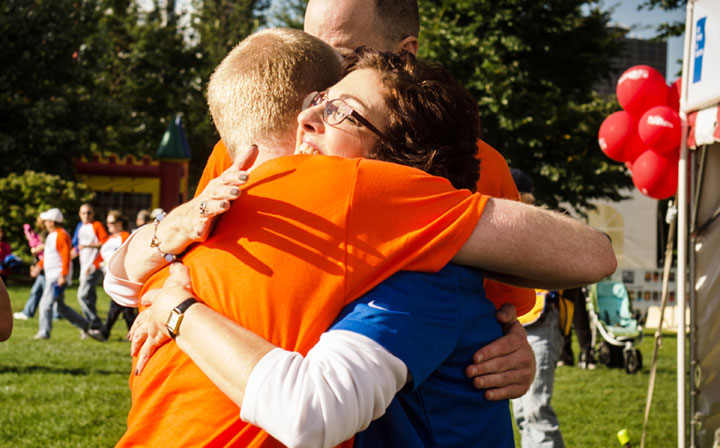 Support Groups
Monthly free support groups allow patients and caregivers to give and receive emotional support and to share information and practical experience. Groups are professionally facilitated and participants are encouraged to express their feelings about ALS openly—whether it's with fear, anger, guilt, sadness or any other emotions. Support groups provide a welcoming environment and a sense of camaraderie with others who are living with this devastating disease. Currently, the Foundation offers support groups in five different areas of Chicagoland.
Support group meetings are open to patients, family members, caregivers and friends. Each facility is wheelchair accessible and offers free parking. We request that you RSVP if you are planning to attend any of these meetings to assure there is availability. Alternatively, if no one responds, meetings will not be held.
Please contact Judy Richman at jrichman@lesturnerals.org or 847 679 3311 to RSVP, for more information on any support groups or meetings, or to be placed on our support group mailing list.
Read why the Foundation believes support groups are important.
---
Locations
---
Facilitators
Laurie B. Fieldman, MSW, LCSW, Patient and Family Advocate and Director of Social Services, received a master's degree from the University of Chicago in 1993 and one from National Louis University in 1992. She has been with the Foundation since 1999.
Anne Lidsky, PhD, has served as a support group leader since 1983. She received her B.A. from the University of Illinois, her M.A. from Northeastern Illinois State University and her PhD in Counseling Psychology from Northwestern University.
Ileane Mindel, RN, Patient and Family Advocate since 1995, graduated from Mount Sinai Hospital School of Nursing of the City University of New York and previously worked at Hospice of the North Shore where she served as Coordinator of Patient Care and Payer Development.
Judy Richman, RN, BSN, Director of Patient Services, has been involved in both the clinical and research aspects of ALS since 1989, working at major ALS centers in the Chicagoland area before joining the Les Turner Home and Community Services Team.  In addition to her primary role as an Patient and Family Adovcate, she also serves as the Foundation's representative to the International Alliance of ALS/MND.
Easton Stevenson, LCSW, joined the Foundation as a Patient and Family Advocate in May 2013. She received her Master's in Social Work from the University of Chicago in 2000. For the majority of her social work experience, Easton worked with the HIV+ population, providing therapeutic services to infected adults and their affected children. Common issues that were addressed included depression, relationship issues, medication adherence, stress, diagnosis acceptance and end-of-life planning. Hope and help for people with ALS.
Your contribution helps support nearly 90% of the Chicagoland ALS population.